Paper Towns Movie Review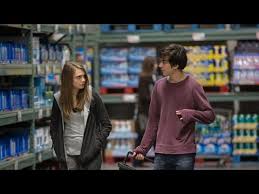 Hang on for a minute...we're trying to find some more stories you might like.
Release date: July 24th, 2015
Rating: PG-13
Type of movie: Mystery/Dramatic
Length: 113 minutes
   This summer the movie, Paper Towns, came out. It's based on the best selling novel, Paper Towns, by John Green. The movie stars upcoming actor, Nat Wolff and supermodel, Cara Delevingne. You may have seen Wolff in John Green's other movie adaptation, "The Fault in Our Stars", as Isaac. The movie is appropriately rated PG-13 for the language, drinking, sexuality and partial nudity that all revolves around teenagers.
   Paper Towns is about a teenager named Quentin, referred to as Q, who is hopelessly in love with his childhood best friend and neighbor, Margo Roth Spiegelman. They spent the days of their childhood together, but as they grow older, Q is seemingly invisible to Margo almost as if he blends into the school lockers. They don't speak to each other, until one night, she crawls into his bedroom window. She has a whole night of mischief planned in attempt to get back at some backstabbing friends, and she needs Q to join her in being her partner in crime. Q reluctantly agrees, and they spend the night getting revenge, all while he falls even deeper in love with her. When Q goes home and wakes up the next morning, Margo is gone. From that point, he's determined to find her, as he finds clues and goes on a road trip with his best friends to find the girl he's in love with.
   As a fan of the book, the movie didn't quite live up to expectations. There were some noticeable differences between the book and the movie that involved the way the story ended. The movie took the ending and made it more cliche, rather than keeping the realistic ending in the book. Normally this wouldn't be a problem, but the realistic ending of the book is a big reason why the book is enjoyable and different than other books. But, besides the few major differences, overall it was still a pretty engaging movie. The characters in the movie all had a sort of sarcastic humor and excellent comedic timing, which is always a good element in a story like this. As well as the humor, the characters were all more than they lead on. Each of them had scenes showing a more vulnerable side to them throughout the movie.
   The actors portraying these characters were wonderful as well. Cara Delevingne proved that she's more than just a pretty face when playing the feisty Margo. Nat Wolff portrays Quentin the way many envisioned him when reading the book, awkward, an outcast, but a hopeless romantic at heart. Ben, being the main humorous relief, was played flawlessly by Austin Abrams along with Justice Smith who played Radar, the nerdy best friend who is head over heels for his girlfriend Angela (played by Jaz Sinclair).
   From the perspective of a fan of the book, the movie is recommended, but not highly. The major changes weren't preferable, but seeing the characters come to life and hearing favorite quotes had me smiling from ear to ear. John Green never fails to amaze with his unique characters and interesting plot lines, and Paper Towns is no exception.