The Tragic Wonders Of "You"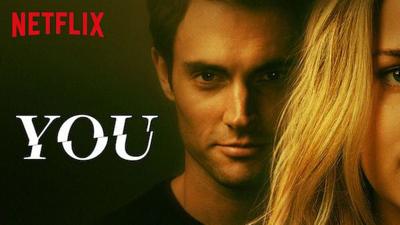 "You" is a netflix series made in 2018 and has 2 seasons available on Netflix. This is a drama and psychological thriller is good for people that are into scary but dramatic shows. 
The first season of "You" is based on the 2014 novel by Caroline Kepnes. Second season based on Hidden Bodies by Caroline Kepnes. There is this plot twist at the end of season 2 that surprised you as the viewer of the series.
Characters 
Joe Goldberg in Season 1, named Will Bettelheim in Season 2 (Penn Badgley) Psychopath, stalker, manipulator, charming, a manager that works for a bookstore called Mooney's, obsessive over things and over girls (Beck). He doesn't realize how bad he is mentally and somewhat physically.
Beck (Elizabeth Lail) Innocent, graduate student, Writer that is trying to fulfill her dreams. Can't get over her ex-boyfriend until Joe comes along.
Love Quinn (Victoria Pedretti) is uplifting, a Cook but when she stresses she bakes more. She works for her family business, Anavrin, with her brother (Forty).
Forty Quinn (James Scully) is a drug addict, loves her twin brother that she constantly has to take care of, runs after his down spiralling addiction of drugs.
Candace Stone (Ambyr Childers) Joe's ex-girlfriend who stalks him and tries to warn others.
"
 Love knows the truth but is with it and knew the whole time. But Love has yet to wait for the truth and Will has yet not found out what lies below Love's truth."
The obsession over a girl might be a little much than it should of been,(not only in  season one but also season two). They "fall in love", (if that's what you want to call it) but are fighting and on and off with one another.The frightening discovery of joe in both seasons turns to a whole different insane. But in season two he thinks she is the one and she thinks he's the one until the truth among each of them comes out to a twisting discovery. As that is happening his ex tries to expose what he has done before to her and many others. 
At the end of season two he's in the backyard looking through the fence and says something about the neighbor lounging outside next door. Which is believed to be the woman in season three if there is going to be a such thing. The remark he thought to himself was in the directing of all the other women he obsessed over. Remember he's still with Love and they have a surprise in the future that can change his and loves life.