APES Refinery Trip
Hang on for a minute...we're trying to find some more stories you might like.
 On Friday, March 3rd, McPherson High School's AP Environmental class (APES) took a field trip to the local CHS Refinery. This field trip coincides with the renewable and nonrenewable energy chapter the class is currently studying.  
  "This sounds like a great experience," said junior Georgia Herrold, "We don't have very many places in Kansas we can visit so I'm sure this will be fun!"
  The class left before first hour and headed to CHS. There, they boarded a bus and were given a tour by Alan Burkhart. He explained the structures in the refinery, and what their purposes were. Students asked questions as the bus circled the property and entered buildings.
  "I thought it was interesting the way everything is set up," said junior Brooke White, "My favorite part was when we got to see the filter system they used for cleaning the water."
  After approximately 45 minutes, the tour ended, and the bus dropped the class off at the laboratory building. There, students talked to Ben Starberg, a retired teacher. Starberg explained the machinery he uses for his job and further explained the fractional distillation that goes on at CHS.
   "The tour guides were great!" said Herrold, "I really enjoyed talking to the two guys in the lab. Especially Al. Al was cool. The lab smelled pretty weird, but it was still my favorite because how hands on it was."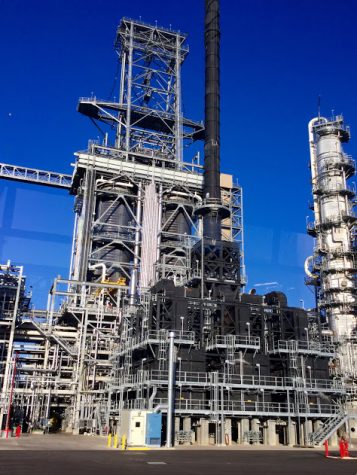 Again, after around 45 minutes, the class gave their thank you's and headed to the tour bus again, ready to go back.
  On the way back to the school, the class teacher, David Maxey, treated the students to donuts for a field trip well-done.