Dawg Pound Check In
Hang on for a minute...we're trying to find some more stories you might like.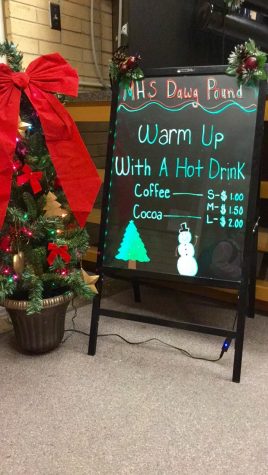 Wrapping up quickly, the first semester of MHS is close to the end, and kids are winding down for winter break. The Dawg Pound, the recently added school store, has become a common part of student's lives since the beginning of its stay that started in September.
  "I think the store is doing very well. Students still stop in and buy stuff, but our most popular time is the 7-minute passing period since they won't be late to class," said Mackenzie Shoulders, a worker in the store. " I think the most popular item would be hot chocolate especially since it's getting colder outside. My personal favorite would have to be the sea salt and vinegar chips that we just got in not to long ago."
  Recent issues and policy changes have forced the store to get rid of certain items and replace others with healthier options.
  "We are now selling black coffee instead and that seems to be increasing in popularity," said Amy Plackemeier, the founder of the store. "We are also offering some new snacks and gum."
  The changes the store had to endure so far are definitely making an impact.
  "Things are going all right. It isn't great, but it is not as bad as it has been," said Laurel Gorman, another worker. "Our biggest issue is stocking the store," Gorman continued, "It has been a constant struggle to get good merchandise and to compete with the cafeteria."
  The windows to the store have been painted by workers as well, and despite the struggle to get the paint to stay, the masterpiece stands proud for any and all customers to see.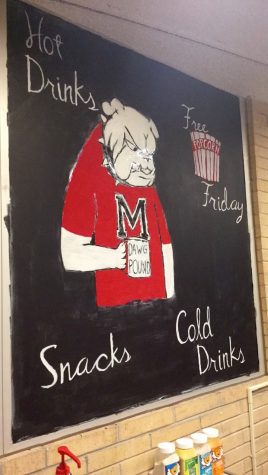 "After I finally got it done, it all started peeling off," said Gorman, who was in charge of the painting. "I ended up having to use a quarter to scrape it all off, which took about three to four days. I got a new type of paint and redid it, and now it is the best that it is going to be."
  The store has gone through some changes, and whether those have helped or hurt is yet to be determined.
 "I am not entirely sure that it will make it past this year. If we can get better merchandise that people will buy, then it may have a good chance," said Gorman, "Time will tell."
  Other workers have a more positive view of the future.
"I think the store will keep getting better by the year," said Shoulders, "Especially when we have a lot more food items."
12/13/16- Update: Inaccurate quote was removed.