The First Week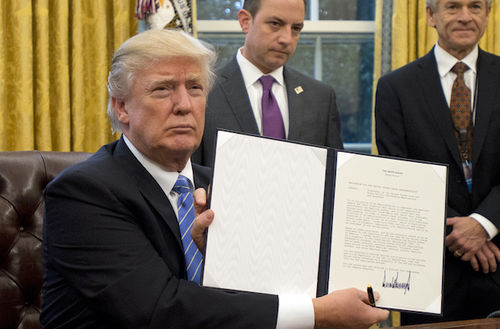 Hang on for a minute...we're trying to find some more stories you might like.
    In single week, President Donald Trump has already begun utilizing many of his presidential powers. A large number of the promises made during Trump's campaigning has been set into motion towards fulfillment, including plans for the the ever-famous (or infamous) wall. From executive orders to presidential memoranda, the presidential pen hasn't picked up much dust lately.
    "Executive orders and presidential memoranda are official statements from the President to our bureaucratic entities on how to interpret or implement policy," explains Bryan Little, the McPherson High School government teacher. "Some of them act like forceful suggestions, but most of the executive orders carry the weight of a law."
    So are these executive orders and presidential memoranda officially implemented as the law after the president signs it? Not necessarily. "The courts can overrule those just like they can rule laws unconstitutional, but it doesn't always happen," continued Little. Mr. Little also explained that the implementation of these orders as laws also depends on how much funding it will take to carry out. Congress has the overall decision on budget choices, and they have the right to simply not give the orders the funding needed if they oppose it.
    Mr. Trump's first executive order was signed merely hours after uttering the oath of office, an order preparing to rollback the Patient Protection and Affordable Care Act, better known as Obamacare. This is the first time a President of the United States has signed an executive order on the first day in office since Bill Clinton.
    A list of all orders and memorandums put out as of Friday, January 27 at 12:00 pm are listed below, along with a short summary of what the orders encompass:
Executive Orders:
Minimizing the Economic Burden of the Patient Protection and Affordable Care Act Pending Repeal: Plans to eliminate or roll back pieces of the Obamacare Act

Expediting Environmental Reviews and Approvals for High Profile Infrastructure Projects: Provides more funding for the construction of infrastructure projects such as electric grids, airports, etc. Puts higher priority on deadlines made for such projects to try and prevent countless delays.

Border Security and Immigration Enforcement Improvements: The plan for the immediate construction of a wall near the southern border, along with the hiring of all necessary individuals to maintain safety protocols. Also intended to expedite the trials, prosecution and deportation of illegal immigrants and other criminals crossing the border.

Enhancing Public Safety in the Interior of the United States: Intended to remove the "Sanctuary Cities" in the United States that do not turn in those found to be illegal immigrants. Also intended to make the  process of trials and deportation of illegal immigrants more efficient.
Presidential memorandums:
Memorandum for the Heads of Executive Departments and Agencies

Regarding the Mexico City Policy

Regarding Withdrawal of the United States from the Trans-Pacific Partnership Negotiations and Agreement

Regarding the Hiring Freeze

Construction of American Pipelines

Regarding Construction of the Keystone XL Pipeline

Regarding Construction of the Dakota Access Pipeline

Streamlining Permitting and Reducing Regulatory Burdens for Domestic Manufacturing