High Tea in Amsterdam
        From the early 1800's, afternoon tea has been a delicacy served all around the world. Also known as lunch, or simply just a snack. But have we Americans ever really appreciated it? We don't know how exquisite High Tea actually is and the time and class it takes to have it.
        Typically, High Tea is served with courses, such as decadent finger sandwiches, tiny cakes, or miniature desserts, and of course, a tea of your choice. High Tea is very different from afternoon tea as afternoon tea is there just to fill the gaps for when you want a little snack.
        Afternoon tea was brought into the world and originated in England by Anna Russell; the seventh Duchess of Bedford, in the year 1840. Between lunch and dinner she would feel herself getting hungry, so she developed afternoon tea to satisfy her appetite.
        On the other hand, High Tea is multiple meals. Originally for when artisan workers would return home from work, but has differed as of late because now it is mainly finger foods.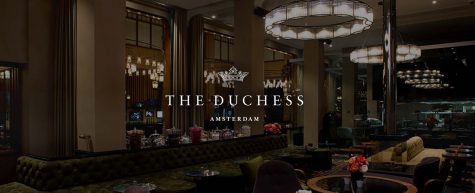 High Tea is known all over the world for being very chic, and elegant. For example, take The Duchess in Amsterdam. They're menu consists of First Serve, Sweets for My Sweet, and any tea of your choice from their collection Mariage Frères. And while you enjoy your tea, you get a beautiful view of the Amsterdam Canals.
Not a lot of Kansans get to travel all over the world and get to have High Tea in Amsterdam, but if ever given the chance, The Duchess is highly recommended for it's deluxe experiences and fancy atmosphere. It is located Spuistraat 172, 1012 VT in Amsterdam.