Girls Swim Head to State
  On Friday, May 20, the McPherson Girls Swim Team will travel to Topeka, KS to compete against other top teams across the state. The top 16 individuals will qualify for the second day of competing all in hopes of getting a place on the winners podium.
  "I am so excited for the State Meet this weekend," coach Abby Bradstreet said. "The girls have been working hard all season and now it is time to go and swim and have fun. We are hoping to make it to the 2nd day and also break some M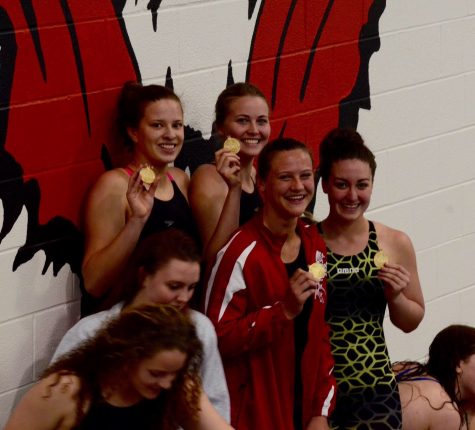 HS school records. I've loved coaching these girls and can't wait to watch them swim in a few days!"
  Among the nine going to state, five are seniors, competing for the last time as a team.
  "I am going to miss my teammates the most," senior Lindsey Moore said. "I've loved having a lot of seniors on the team because they are all my friends and I think it's better for the team too. Then we have more advanced swimmers and underclassmen have more of us to look up to."
  Many relays hold excitement for qualifying, but one stands out among the rest. The 4×200 freestyle time holds the time of 1:47.(find out). The order goes senior Olivia Hansen, freshman Maggie Leaf, sophomore Megan Cutting, and finally senior Katie Wurm. The team will attempt to break the current school record, which is 1:45.36.
  "I hope to break some records individually and as a team at state," senior Katie Wurm said. "I think this year we've improved greatly and it's exciting to watch the underclassmen get better and better."
  The team will be leaving early Friday, May 20, in hopes of bringing home a new record, and possibly some hardware.