Chadwick Boseman has passed away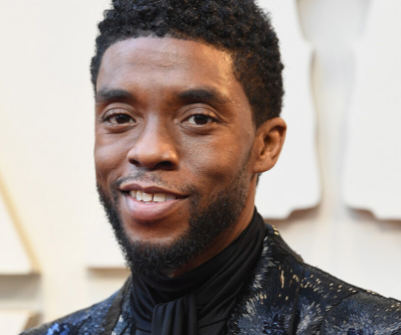 Yes, you read the headline correctly. On August 28th, 2020, beloved actor Chadwick Boseman passed away at the age of 43. His passing was due to complications with colon cancer. Sadly, Boseman was diagnosed with stage III colon cancer in 2016, which eventually progressed to stage IV before 2020. Boseman never told the public about his cancer diagnosis and kept it a secret from the press. During treatment, involving countless surgeries and chemotherapy, he continued to work and completed production for several films, including "Marshall" "Da 5 Bloods" and several more. On August 29, 2020, the day after Boseman died, the tweet in which his family announced his death on his Twitter account became the most-liked tweet ever, with more than 6 million likes in under 24 hours, and gathering over 7 million by August 31, leaving the previous record holder in the dust. Many fellow actors and other celebrities paid tribute to Boseman on social media following the announcement of his death, including a number of his Marvel Cinematic Universe co-stars.  Scarlett Johansson made a video on social media, in it she said, "Chadwick was a deeply kind and gentle person, there will forever be an irreplaceable piece missing from our Marvel family." Marvel Studios president and chief creative officer Kevin Feige called Boseman's death "absolutely devastating", writing: "Each time he stepped on set, he radiated charisma and joy, and each time he appeared on screen, he created something truly indelible, Now he takes his place as an icon for the ages". 
His death also drew responses from the political people, including former first lady Michelle Obama and former president Barack Obama. Mr. Obama wrote, "To be young, gifted, and Black; to use that power to give them heroes to look up to; to do it all while in pain – what a use of his years." The 2020 Democratic presidential nominees Joe Biden and Kamala Harris also paid tribute to Boseman on Twitter. Biden wrote: "The true power of Chadwick Boseman was bigger than anything we saw on screen. From the Black Panther to Jackie Robinson, he inspired generations and showed them they can be anything they want — even superheroes." Harris, who was also the subject of Boseman's final tweet, posted a statement mourning the loss. 
Major League Baseball and the Los Angeles Dodgers, the team for which Jackie Robinson played, issued statements honoring Boseman, in light of his amazing portrayal of the player. Several people noticed Boseman died on Jackie Robinson Day, seven years after he played Robinson in the movie, 42. Prior to the fifth game between the Los Angeles Lakers and the Portland Trail Blazers in the NBA playoffs, Boseman was honored with a moment of silence. 
Boseman's old school, Howard University, tweeted in reaction to Boseman's passing, "It is with profound sadness that we mourn the loss of alumnus Chadwick Boseman who passed away this evening. His incredible talent will forever be immortalized through his characters and through his own personal journey from student to superhero! Rest in Power!" 
Governor of South Carolina Henry McMaster ordered the Statehouse flags to be lowered to half-staff on August 30, 2020, in honor of Boseman, who was born and raised in the state. Also on August 30, Channel ABC aired Black Panther without commercials, followed by a retrospective of Boseman's life and career titled Chadwick Boseman — A Tribute for a King. I managed to watch it, and I admit I cried like a baby.
Co-stars from some of Boseman's other films also paid tribute to him. Josh Gad, who Co-starred with Chadwick in the film Marshall, recently revealed one of the actor's final text messages, and his words are unbelievably meaningful. Gad wrote: "Breaking my twitter silence to share some beauty. This was one of my final texts from the brilliant & once-in-a-lifetime talent, Chadwick Boseman. Take this in & celebrate life. He knew how precious every moment was. Tonight the heavens received one of its most powerful angels." Gad then shared a screenshot of the text which Boseman sent after a series of gloomy days in Los Angeles. The text was a poem written by Boseman. The message read, 
"If you are in Los Angeles, you woke up this morning to the rare and peaceful sound of a steady precipitation. If you're like me, maybe you looked at the week's forecast and found that it's supposed to rain for three straight days; not without breaks of sunlight and reprieves of moist gloom, but yeah it's gonna be coming down like cats and dogs. Great. We're stuck inside these damn quarantines because of the COVID, and now we can't even get no sun in Cali. Come on now! But now that the rain has stopped and the storm has cleared, I urge you to go outside and take a DEEP breath. Notice how fresh the air is right now after our skies have had a 3-week break from the usual relentless barrage of fumes from bumper to bumper LA commuters. And now today's rain has given the City of Angels a long overdue and much-needed shower. Inhale and exhale this moment, and thank God for the unique beauties and wonders of this day. We should take advantage of every moment we can to enjoy the simplicity of God's creation, whether it be clear skies and sun or clouded over with gloom. And hay, if the air is this clear right now, and it does rain tomorrow, I might even put jars and bins out to catch the rain. Throw that in the water filter and I have water more alkaline than any bottled brand out there."
 Boseman's words about seizing the beauty of the present moment ring especially true in light of his tragic passing. He was loved by all and will be severely missed. Wakanda Forever. Rest in power, your majesty… Goodbye Friend.