Trump Set Off A Riot And Extreme Violence At The Capitol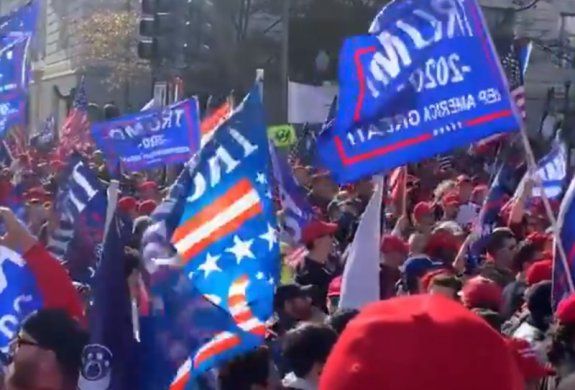 On December 19th, Trump shared a tweet that set off a series of events. The tweet shared information for "The March For Trump." Former President Trump tweeted many times supporting this march, Trump tweeted, "Be there, be wild!" Trump told everyone to "fight" because it could be his last rally as the sitting president. On January 1st, he then tweeted, "The BIG Protest Rally in Washington, D.C., will take place at 11.00 A.M. on January 6th. Locational details to follow. StopTheSteal!" 
On January 6th, in Washington, D.C., protesters supporting Trump invaded the Capitol rioting and causing damage. The protesters were seen getting into the Capitol effortlessly as the guards and officers were standing by. The MAGA protesters were seen carrying American flags, Trump flags, and even the wrong flag for the state of Georgia. One man was dressed as a bull as he was invading the Capitol. He was identified as Jake Angeli, a man from Arizona and a QAnon supporter.
One civilian was shot dead by a Washington police officer. There were 6 arrests that night before the capital went on lockdown due to riots. All Government officials were moved to a safe place underground during the Lockdown period. Former President Trump asked for the protesters to go home after President-Elect Biden reached out to Trump asking him "to do what's right." 
In Trump's tweets, he specifically used the word "wild," and wild is what he got. Many people are injured and one is dead. The whole country is anxious to see what lies ahead: Will Vice President Pence have to step in for Trump's last two weeks of presidency; Will the violence continue; Will the inauguration be hectic? Only time will tell now.
About the Contributors
Katelyn Mintzer, Sports Editor
I'm Katelyn Mintzer, a student at McPherson High school, and I participate in the yearbook/Journalism. This is my last year being a part of the yearbook/Journalism...
Maleiah Ewert, Editor
I love writing about controversial topics and taking pictures. I want to become an author and journalist someday and write poetry and science fiction books. ...