Is the ACT and Pre-ACT Beneficial to Students at MHS?
On Tuesday, February 25th, students at MHS will be taking their ACTs and pre-ACTs. Testing will begin at the start of school and will end around 12:00 pm. Freshman will be going on tours of local businesses, Sophomores will be taking their Pre-ACTs, Juniors will be taking their ACTs, and Seniors will be working on their Senior projects. Students are to bring a #2 pencil to class as well as a permitted calculator and phones is prohibited during testing period.
The ACT that Juniors will be taking is a curriculum based examination that will be measuring students academic strengths and weaknesses. The results help students find areas of improvement if they intend to go to college in the future. While it is a very important test and colleges look at students scores, students also have the opportunity to take it several times during high school. Do students at MHS believe the ACT is beneficial to them, or is there no reason in taking it?
Sophomore, Maddison Dobson, said, "I'm preparing for the Pre-ACT by going over the basic equations and understanding that it isn't going to pertain to me this year. I think the testing is beneficial so you understand the categories but as Sophomores I feel like it kind of isn't. I'm aiming to get a twenty-six or twenty-five."
Junior, Trinity Webster, said, "I'm preparing for my ACT by getting more sleep. I don't think the test is beneficial to students. The score I'm aiming for is at least a twenty-five, good luck everyone!"
Junior, Meghan Monroe, said, "I've been taking practice tests for the ACT, it is not my first time taking it. I don't think it is very beneficial to us, but I can understand why colleges have to have our scores. I'm aiming to get a twenty-three."
Whether students at MHS think the ACT is beneficial, or don't believe in the testing system, It can be good to get results on how they have improved since their last testing date. If college is a path a student may be considering going down, getting a good ACT score could lead them in the right direction. Good luck testing!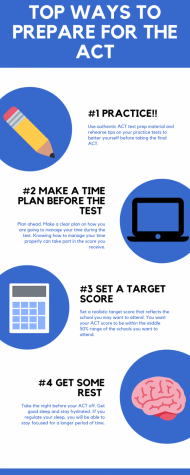 About the Contributor
Kaylea Herrman, Managing Editor
I love writing news articles and taking photos. Writing has always been one of my strong suits and I strive to become better at it as well as help those...