McPherson Won Against Their Biggest Competitor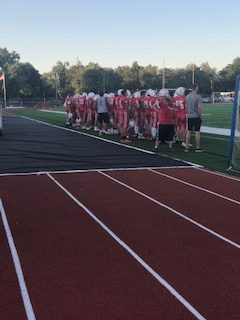 McPherson High school football won against their biggest competitor, Buhler High School, on Friday at the McPherson College fields. MHS beat Buhler 21-14. McPherson is now 5-0 and is the only undefeated team in 4A West. 
Pups print class, at McPherson high school sold shirts Thursday for all the students. They were sold out in a matter of minutes, the shirts said "Beat Buhler". Also, to get hyped for the Buhler game, all MHS students and staff got together and had a big pep rally. 
During halftime, Hayes Schmid and Lakyn Schieferecke where named MHS Homecoming King and Queen. At halftime, the score was 6-0.  Bullpups were 21-0 in the third quarter with 2:26 left. Kaleb Hopps connects with Aaron Powell when he caught the ball and scored the firsts touchdown of the game and after that, the crowd went wild, parents, children, and especially the student section. Under two minutes left Buhler looking to get a big point but Kaleb Hoppes come to the rescue for the Bullpups, snags an interception to put this game away.
About the Contributor
Katelyn Mintzer, Sports Editor
I am Katelyn Mintzer, a Junior at MHS. I strive to become a better writer every day because I want to be a journalist. I want to go to WSU for college...