What is McPherson High School Band Doing?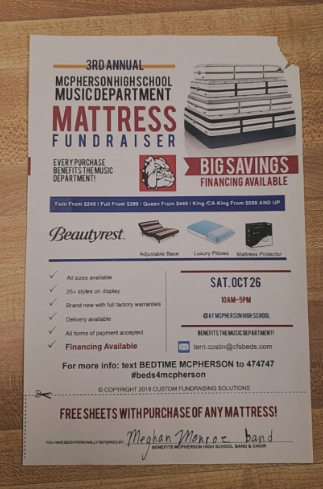 McPherson High School band isn't selling chocolate this year but they are selling mattresses as in the past. They will also be doing some other small fundraisers throughout the year. Katelyn Kuder says that in the past selling mattresses has done well and that they will probably sell quite a bit this year. 
They have started handing out flyers for their fundraiser. On October 26th the fundraiser will be held in the aux-gym at McPherson High School. 
Their final marching competition was on Wednesday October 9th at Baker University. Katelyn had said "I think that we will do fairly well, considering we have a very strong show this year!" They ended up getting a 1 (superior) as well as third place. 
When asked what she thought she could work on she responded by saying "I think that I can personally work on improving my range and technicality." and said that the band as a whole could work on work on marching and overall advancement in playing skills. 
Now that band is done with marching they will be focusing on different competitions and festivals coming up. On November 2nd they will be having SCKMEA auditions in Goddard. On November 7th they'll be attending the McPherson College Jazz Festival.