McPherson Football Bullpups Starting Off the Season With a Big Win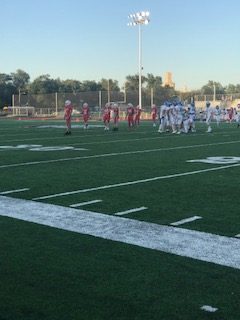 The McPherson High School football team had their first home game this season, their record right now is 2-0. They played against Windfield at 7 pm here at the McPherson College felids. The Bullpups won 47-0 with the help of the student section cheering on their team. Jayton Alexander, a starter on varsity said, " I feel that the game went pretty good. Windfield is improving as they have a lot of seniors that returned that know the game. I think all around as a team we did good. The defense stepped up when the offense was struggling but we worked hard as a team and once offense found the plays to run we are a hard team to stop."
Mason Thrash ending up having 25 tackles and Bryson Labertew with 19 tackles.
Cody Stufflebean already with 3 sacks all in their 2nd game. The Bullpups work hard every day after school at practice. They prepare themselves every day to get ready for their next game. Alexander, a starter on Varsity said, "We prepared for this game on Sunday for the coaches they make a scouting report of all the other team players. Then on Monday, we met as a team for that. Our scout team does a really good job of running the plays the coaches give them."
The Bullpups have started off the year with 2 wins.  Windfield won their first game against Arkansas City by a score of 20-18. Their record now is 1-1. Last year,  the Bullpups beat Windfield 47-7. Their next game is also a home game here at McPherson College fields on Friday at 7 pm. The Bullpups will be playing against El Dorado.  Aaron Powell, Wide receiver said, " I think we are definitely better at being active as getting hyped up during the game. We have great coaches that make sure we get to film and get things all worked out through the week to get ready for games."
About the Contributor
Katelyn Mintzer, Sports Editor
I am Katelyn Mintzer, a Junior at MHS. I strive to become a better writer every day because I want to be a journalist. I want to go to WSU for college...