McPherson High School Wrestling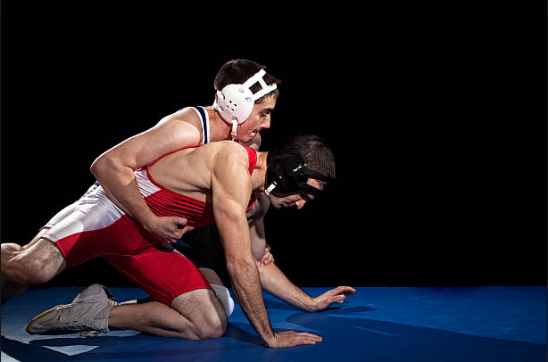 With wrestling season here, the McPherson High School wrestlers are constantly training for their matches. The McPherson High school has a good reputation for wrestling and there is pressure on the wrestlers not to disappoint. Some students hope to earn a scholarship in the future and wrestling is something people live in breath in order to get better.
You have to be tune within yourself to wrestle good matches, this makes it a very mental sport. Sports can put a lot of stress on students, but it is how they mentally prepare themselves that matters. "Wrestling is something that very much affects how I think mentally and sometimes puts stress on me. However, it is honestly the best decision i've ever made. I truly love it, my team, and the coaching staff."-Riley Baker. Hearing from many students around the school, none think that wrestling is an "easy" sport. On the mat, it is said to be one of the most exerting sports and requires plenty of endurance as well as commitment.
Speaking to wrestling manager, Sophomore Jessie James, she said, "I decided to manage this year because I like the people who wrestle and I thought it would be fun because I did it in eighth grade. This sport is not easy, it's a lot of work and a lot of one on one. It's all yourself and you're not relying on someone else to do something. You use every muscle in your body, while in some sports you just use your upper body." Speaking to wrestler, Senior Miya Kretzer, she said, "I first started wrestling in seventh grade. Back then, I feel like it saved me from bullying and later it just became my passion. It isn't an easy sport but it depends on how much work you put into it. If i'm training for national events I practice three to four days a week, but if it is just high school season then five days a week." 
This Thursday there was a match in Smokey Valley that resulted in a score of 66-9. Starting off good, Landon Crews tech falled his opponent which made him fifteen points ahead before the end of the six minutes in his match. McPherson over all had a total of 11 pins at the end of their match and they won both dules. They performed very well and only lost their last two classes. If Mac keeps this up they will have a chance at league.
Wrestling can be a very hard sport but coming together and participating as a team is an amazing experience. If this sounds like something you would be interested in, talk to some fellow wrestlers at the McPherson High School.
About the Writer
Kaylea Herrman, Managing Editor
I love writing news articles and taking photos. Writing has always been one of my strong suits and I strive to become better at it as well as help those...