Homecoming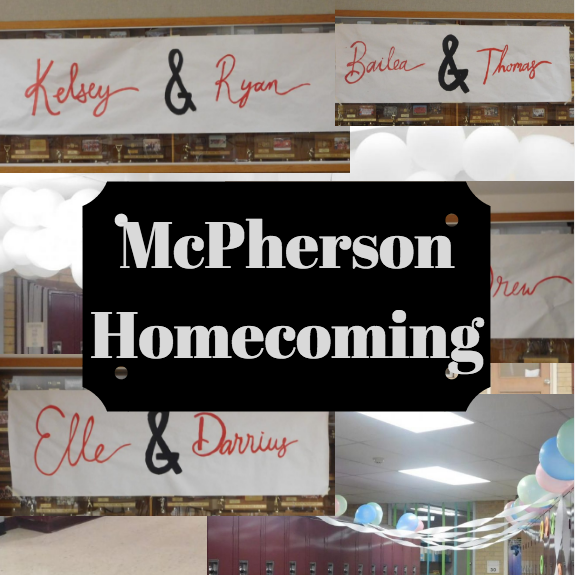 Hang on for a minute...we're trying to find some more stories you might like.
Homecoming Festivities
The week of Homecoming is always packed full of fun and school pride. Before the night of the dance the MHS prepares with spirit week at school, consisting of PJ day, Jerseys and Jorts and many other themes. Along with spirit week the MHS has a special assembly on October 3 introducing the fall Homecoming queen and king candidates. Then the Friday night is reserved for the announcing of the Homecoming royalty and a classic McPherson home football game filled with friends, students and family.
Every year is different for Homecoming, but every student knows it's that time of the year when MHS theater has students piling in for the annual Homecoming assembly.  Abbey Yianakopulos junior said, "I think it is cool because the school gets to individually support the candidates and it's a fun event, plus I like seeing all the cute dresses."
The assembly introduces each king and queen candidate, what they're interested in and a little bit of their overall high school experience. They are also introduced with the little kid Homecoming king and queen. Caitlin Faulk, junior, said "I always enjoy seeing the little kids and hearing what they have to say."
Homecoming Dance
Homecoming is a huge deal throughout High Schools around the world, specifically during this time of year but for McPherson, Kansas, the dance is not going to occur. "It's a good idea because no one really goes to it. You would be wasting money just to go dance with a few people." said, Maria Cecenas. Many people were not interested in attending this year's homecoming." Trenton Keane, said,"I wasn't planning on going anyways so it's really not a huge deal."
Although nobody was really planning on going to the dance, many people are looking forward to the homecoming game! High school football and Basketball games are some of the community's favorite events to attend, therefore making a homecoming football game an even bigger deal.
Spirit Week
While the Homecoming Dance was far from popular, many students got into the spirit week tradition, where you can spend the whole week dressing up depending on the day and win COTY points for your class.
Monday was pajama day, so onesies and flannels flooded the hallways. Tuesday was jersey and jorts day. Sports teams and boys wearing short-shorts could been seen from anywhere. Wednesday was Fraternity/Sorority day, where baggy shorts and khakis were worn by most students. Thursday was country vs. city day where dressy clothes and flannel shirts had us surrounded. Lastly, today (which is Friday) has every grade in designated shirts. Seniors wore black, juniors wore red, sophomores wore white, and  freshman wore neon.
To get other opinions on homecoming week and how it affects our school I went to get other ideas. Haydn Schneider, sophomore, said, "I think that spirit week is a good way to represent your school a couple times a year. But it's only cool if people dress up, if they don't it's lame." Lillian Peterson-Breeden also loves it. She said, "I think that it's a fun way to represent our school pride and to have fun." We also had some differing opinions, for example Autumn Allen stated "I think that it's kind of dumb, but I like how it brings the school together. I also like that I don't have to actually try to dress nice this week because everyone already looks dumb."
Spirit week is a time to express yourself and wear what you want. Not to mention show pride for your school. So go out and make yourself proud to be a bullpup!