A Strong Start for MHS Girls Tennis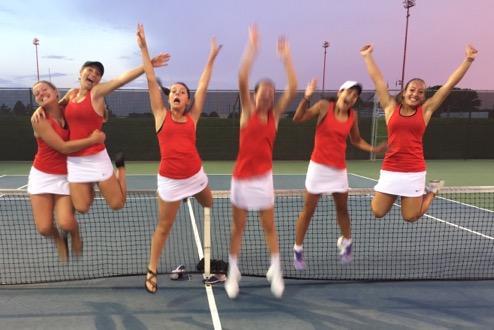 McPherson High School's girls varsity tennis started off their season with a win against potential state placers. The season started with the team of six traveling to Hesston to compete in the Hesston Invitation on Thursday, August 25th. The girls got the team win from another class 4A power, Smoky Valley by just one point.
MHS scored a total of 24 points, second place Smoky Valley received 23, while the defending class 3-1A state champions was third with 21 points.
State 4A doubles runner-ups, seniors Ellea Ediger and Rachel Ivers wrapped the no. 1 doubles division receiving first against Buhler's team of Katie Nachtigal and Michaela Esau.
"It was a good strong start to the season," said senior Ellea Ediger. "I'm looking forward to the new group of girls and hope we all just have a good time together. I am hoping to go all the way this year and win a state championship with my teammates."
No. 2 doubles team of senior Heidi Myers and sophomore Ashley Achilles placed fourth after a tough semi-final loss to Maize South.
On the singles side of the invitational, junior Maisie Edmondson stepped into singles after playing doubles the past two years and placed second in no. 1 singles to Hesston's Morgan Holopirek. Freshman Taylor Bruce also placed second after a loss to Smoky Valley's Sophie Smith in the no. 2 singles.
On Tuesday, August 30th the junior varsity team started their season with a home invitational hosting a variety of strong teams. The JV team placed third with 31 points behind Salina Central (64) and Smoky Valley (48).
The no.1 doubles team of sophomore Daphne Corrillo and freshman Rachel Carlson went 4-1 placing third. Sophomore Caitlin Faulk and freshman Jensen Mierkiewicz played the no. 2 doubles slot and went 1-4 for eighth place.
In singles, junior Madison Schmidt went 2-3 for fourth place in No. 1 singles, while Alexis Verow went 1-4 for eighth in no. 2 singles.
The varsity team will be hosting the McPherson Invitational thursday September 1st at 3 p.m.
About the Contributor
Heidi Myers, Writer
Heidi Myers is in her second year of Newspaper, and writes articles consistently for The Highlife.