Hybrid Schedule at MHS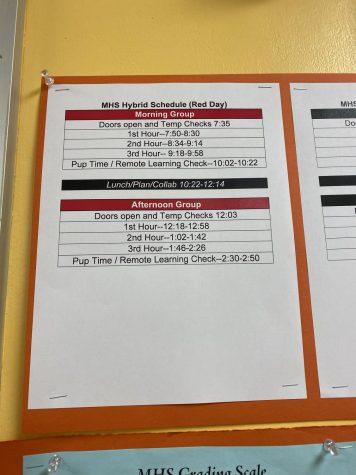 Since the start of the school year, students at MHS have been going to school half time. Separated by their last names, students have been sent to school in two different groups. This hybrid schedule alternates between red and white days and has a morning and afternoon group. The morning group is present in class from 7:50am to 10:22am on red days and 7:50am to 10:42 on white days. The afternoon group is then present in class from 12:18pm to 2:50pm on red days and 11:58am to 2:50pm on white days.
Speaking to Junior, Audrey Bailey, she said, "I like the schedule because it gives me more time out of school and more time to do homework."
Senior, Rhys Vanderhoof, said, "It would be amazing if all the teachers would understand that they still need to take the time that they have during class and use that to teach and give normal amounts of homework instead of just doubling it and assuming we will have time for it."
Senior, Bryan Moreno, said, "I like the new hybrid schedule because it gives me more time to sleep and plenty of time to do my homework. I think we should have it for a while and then we should go back to a normal schedule."
Senior, Jonah Scott, said, "I like it because it allows me time to do my homework in the morning. I'm a better and clearer thinker in the morning and am more efficient at doing school work then. With football in the evenings I am very tired and can finish things up that I need to turn in, then have a good night's rest and get a fresh start in the morning."
Recently this hybrid schedule was reevaluated however, due to increases in COVID-19 cases and quarantines in McPherson County, McPherson Public Schools will remain on the hybrid schedule. The USD 418 Gating Criteria Committee plans to meet again on September 25th, 2020 to review and make plans for the best learning schedule beyond September 30th.
About the Contributor
Kaylea Herrman, Managing Editor
I love writing news articles and taking photos. Writing has always been one of my strong suits and I strive to become better at it as well as help those...