Choose Peace – Anti-Bullying Awareness Week
This October is bullying prevention month. In the state of Kansas, the week of the 7th-13th is dedicated to Anti-Bullying Awareness. Founded by PACER's National Bullying Prevention Center, this campaign is meant to bring communities together in order to educate and raise awareness on prevention of bullying. Across Kansas, many schools have been speaking out on this campaign and the things students can do to put a stop to these frightful occurrences.
At MHS, starting at the beginning of this week information about this campaign has been announced in the mornings to spread awareness across McPherson. Speaking on ways to prevent bullying, the announcements stated, "… in addition to telling an adult, of course. If possible, hang out with friends who make you feel good about yourself. If your friend makes you feel bad or says mean things, he or she is not being a good friend. Tell your friend how you want to be treated and make it clear that you expect to be treated that way…"
Speaking to Sophomore, Zoey Whorton on bullying, she said, "I have been bullied before, it made me feel very upset and sad. I don't know why they felt the need to do this, I suspect they could have been insecure. Nothing was ever done to prevent them from continuing what they were doing."
Sophomore, Madison Speirs, said, "When I was bullied it made me feel like I wasn't good enough for everyone else, and like I wasn't like everyone. I don't deal with these types of situations as much as I used to but nothing was ever done to stop it from happening."
It is crucial to stand together when others need help. There is great power in numbers and it is important that students understand the seriousness of bullying and the impact it can have on others. Let's make a difference this October and inspire students to be upstanders and defend the people who need help.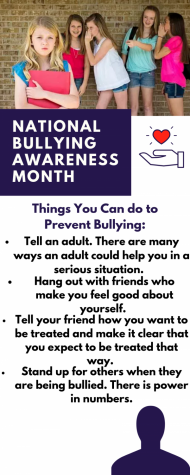 About the Writer
Kaylea Herrman, Photo Editor
I love writing news articles and taking photos. Writing has always been one of my strong suits and I strive to become better at it as well as help those...