The McPherson Hi-steppers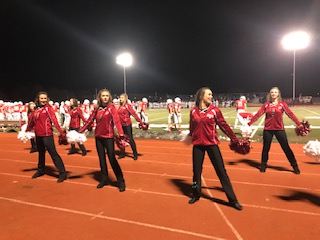 Hang on for a minute...we're trying to find some more stories you might like.
Hi-Steppers had their winter tryouts on Saturday November 10th from 9am to 12pm. They accepted two new additions to the team, Anya Collins and Nicole Winsky. The Hi-steppers coach has been coaching the team for three years. She choreographs most of their dances and chooses the team captains.
Kallie Jost, senior and MHS and Hi-Stepper captain says, "I have been dancing since I was four. I really like that we are all a team and we really care for each other. I have choreographed four dances. I used to get anxious when we would dance in front of the whole school but now it just normal."
Breanna Schnelle, sophomore, and hi-stepper dancer says, "I have dancing since I was five. I really like dancing because you can show school spirit and support either the basketball team or the football team.  You can enjoy dancing with people that your close. The hi-stepper team become a family and we check up on each other every practice and say our highs and lows for the day. It's just a great environment. Practice is important, so you don't mess up cause one mess up can lead to the next."
The hi-steppers have made it so far with their dances. Breanna Schnelle said "Step out of your comfort zone and go for it, you can't shy away from doing anything you just have to try."