The Miracle Season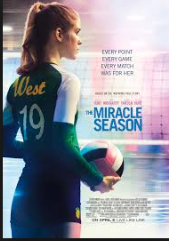 Hang on for a minute...we're trying to find some more stories you might like.
Rating: PG
Release in theater: April 6, 2018
Genre: Drama/Sports
The future seemed bright for Caroline Found (Danlika Yarosh) the team captain at West High School volleyball team from Iowa city. Caroline is the most happiest person in the world, but when it comes to her her mom she struggles. Caroline's mom is very ill and uses that to motivate her in the games. They won state last year and they are wanting to when this year but they are struggling.  Caroline throws parties at her barn and invited the new neighbor for her best friend Kelley (Erin Moriarty). Before the party Caroline got in a wreck, late that night the cops showed up to Caroline's house and told her dad. They lost multiple and have not done very good this season because one of the players got in a wreck.
This movie really is good and a true story as well. The actors are very good and I thought I was in the movie when I watched it. The end of the movie was surprising and interesting.