Carnival Season!!
Hang on for a minute...we're trying to find some more stories you might like.
This last weekend was a busy one for many people attending the carnival and the parade, you could begin to see excitement fill the streets of McPherson as the carnival was filled with kids and the parade was taking place. This time of year tends to be the favorite of many children in McPherson, Kansas.
Kids from Canton, Galva, Lindsborg, and other small towns around McPherson all came to join everyone in the parade and the many nights of the carnival. The day of the parade was Friday the 11th and it began at 10:00am, this wound up to be the biggest event of the week. The parade focused on the schools around McPherson County and the students that were nominated for All School's Day King and Queen, it also focused on small businesses and clubs. There is a different theme for the parade every year, this year it was "Fun In The Sun"  welcoming summer into our town and marking the beginning of memories to be made.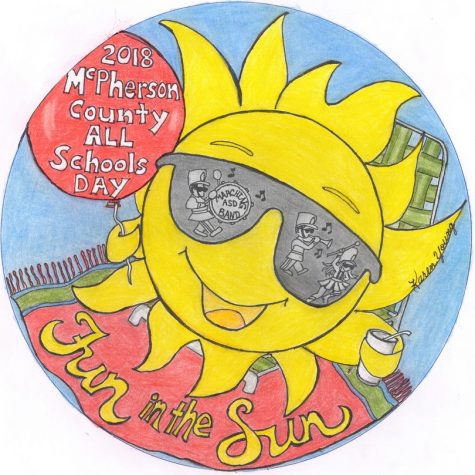 Right after the parade, our graduating students of each level of schooling (going into Middle School or High School)  participated in the Madathon, Madathon is a competition in which students go through a series of obstacle courses and compete to win. Many families and kids went to watch their friend or family member compete, generally the leader (or coach) will end up being one of the student's parents. While all of this was going on, there is a huge set up of some stands for food or drinks and bouncy houses for smaller children, they also began to have trampolines for kids to mess around on and do flips.
The Carnival stayed running for about a week. Every night it was filled with tons of people from town and surrounding towns, I went around and asked some people how they felt about the carnival this year, here's what they said. "It was great, I moved out of town and got to see many people I haven't seen in years so it was really fun." said Frankie Heart, sophomore. "It was really good, I went on the serge and it was really nerve wracking for me at first." said Katie Odermann, senior.

Nearly everyone went and enjoyed it unless the weather was bad, luckily this year it never was. They have many rides such as the Zipper, Bumper cars, etc. The carnival has hotdog stands, Pretzel stands, Lemonade stands and everything! They also have a series of games ranging from throwing a ball at glass bottles, to popping balloons with darts or a stand that had crazy animals! The most popular night to go to the Carnival was the wristband nights, which were on Tuesdays and Thursdays from 6:00 – 10:00 and Saturday from 1:00 – 5:00 and 6:00 – 10:00. As the carnival began to be taken down everybody knew this meant summer is getting closer and closer causing the excitement from this celebration to grow 10 times greater!