Week 1 Showdown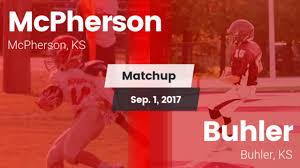 Friday, September 1st. Week 1 of high school football. The classic Mac-Buhler showdown. This game is always the most intense and anticipated game all year. For fans, it is edge of your seat climax, especially when we are in the belly of the beast. This means Mac travels to Buhler.
Our team is made up of many seniors who have been itching for their opportunity to whoop Buhler. Mac lost to them last year and we haven't beaten Buhler on their field since the 1980's. The history of the rivalry truly dates back and impacts us still.
This game is very important to the players because it is a "brick game". A brick game is tradition for the players in which ,a game that is very important, the score is written on a brick; if won. This gives the pups a little more motivation. The Pups are ready to bring home the first "W" of the season and watch our star ,Ryan Rondsee, do the victory dance.