The Passengers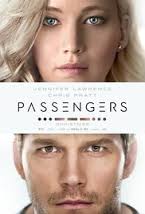 Hang on for a minute...we're trying to find some more stories you might like.
    Released just before the end of the year, December 21, 2016, "Passengers" is Sci-Fi film starring Jennifer Lawrence and Chris Pratt. In the movie Lawrence and Pratt are passengers, Aurora Lane and Jim Preston, on a spacecraft with thousands of other people who are traveling to another planet, when the sleep chamber malfunctions and Aurora and Jim wake up 90 years before they are supposed to. But little does Aurora know that her waking up wasn't an accident, and Jim is the only one who knows why. While on the ship Aurora and Jim become closer as friends and closer as more than friends, but as they are becoming closer the ship systems have been failing and they didn't have a clue. The director of Passengers, Morten Tyldum, also directed The Imitation Game in 2016 and Headhunters in 2011.
    One reviewer, Glenn Kenny, who said while the movie was no doubt enjoyable, Kenny also said that "Despite their individual charms as performers, Pratt and Lawrence have very questionable chemistry." But on screen they do have a connection which is mostly due to the fact that they will be growing old together.
    While Jim Preston doesn't seem as though he would be a bad person, he ends up being the villain, but without the mustache twirling. The fact of the matter is that Jim's decisions in the movie was one way critics turned away from the movie, due to the fact of the subtlety of Jim's character. As far as Aurora she is not quite sure as to why she woke up other than what Jim has told her, she ends up liking Jim as much as he likes her and their connection grows, but once she finds out what Jim has done that connection may be broken.