McPherson vs. Buhler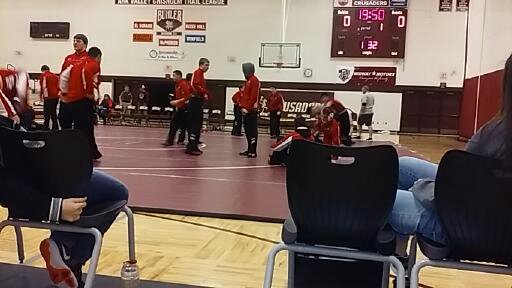 McPherson High School wrestlers have been putting in hard work this week in preparation for the dual against Buhler. The Varsity's first dual against Andale was long battle for each of the wrestlers competing. Cole Kretzer returns this year as a senior, after his big win against Andale he is looking for another win at Buhler. As well as many other seniors this year, along with all of Varsity. On January 7th, Varsity wrestlers for Mac High started out with freshman EJ Kretzer wrestling at 106. January 7th was an exciting and nerve wracking night for McPherson Varsity Wrestlers and supporters, starting out the night was rough. First EJ Kretzer then Seth Morgan, and Cole Kretzer following with an open match.
Then Brynton Crews wrestling his first Varsity match of the year wrestled tough but couldn't get his takedown, then he fought and threw in a reversal and pinned his opponent. From then out everyone fought hard and wrestled their best. State qualifier Austin Eldredge wrestling 132 started out intense until the end, he was down points and needed a takedown he fought, looked for his shot and won the match, everyone went crazy. Those first few matches were intense, but nothing compared to how the crowd reacted to the final two matches. McPherson was down 27-36.
It was all up to Ty Goss and Alex Grennan to bring home the win for Mac. First weighing in at 220 was Alex Grennan, against Buhler's Bradley Briggs. Everyone thought this would be your average joe match, but they were so wrong. Grennan fighting until the last second of the first two periods, every wrestler, manager and spectator was on the edge of their sits, yelling and hollering. Then the two wrestlers set for the final period, and the whistle blew and fighting Grennan pinned Briggs for six team points. Finally heavyweight, Ty Goss walks out to the standing at 6'2 ready for his team winning match and just as fast as the whistle blew, Goss pinned Buhler for a final six points and a huge Mac victory over Buhler. 
   Varsity
106 EJ Kretzer
113  Seth Morgan      JV: Mya Kretzer  Hannah Moore
120  Cole Kretzer
126  Ben Hopkins     JV:  Brynton Crews
132  Austin Eldredge
138  Scott Radke      JV: Tyler Scott
145  Brice Kasting    JV: Noah Scott
152  Noah Bratcher (JV)
160  Luke Thompson
170  Caleb Giddings
182  Kaleb Jost
195  Dylan Baldwin  JV: Seth Spainhour
220  Alex Grennan  JV: Donavon Bailey
285  Ty Goss            JV: Jared Ruth