How Could 2020 possibly get any worse?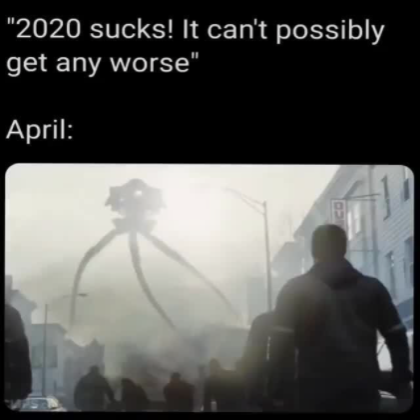 So, 2020… What can I say that everyone else hasn't already said about this year? It's fantastic! That's something that hasn't been said about 2020 yet, But we all know it's a big fat lie. Let's take a brief recap, shall we?
First off, Australia faced one of its worst fire seasons in history beginning in 2019 and continuing into 2020 — which riveted the world as flames burned a record 47 million acres, displaced thousands of people, and killed at least 34. Researchers said the fires also razed rare habitats and killed more than a billion animals. Yeah, good start.
There was panic with the possibility of a war with Iran.
NBA legend Kobe Bryant was killed in a helicopter crash in Calabasas, California, along with his 13-year-old daughter Gianna and seven others.
George Floyd was killed on May 25 by a Minneapolis police officer. The killing of a Black man at the hands of a white officer touched off protests against racism and police brutality across the United States and around the world.
The government released UFO photos.
There were multiple sightings of "murder hornets" in the U.S
Chadwick Boseman recently died of colon cancer, devastating Marvel fans everywhere.
Oh yeah, and then the COVID-19 pandemic and quarantine. Our lives were changed forever.
Now, forgive me for being pessimistic, but I feel a lot like Clark Griswold after the squirrel came out of the tree. "WORSE? How could things get any worse? Take a look around here, Ellen! We're at the threshold of hell!
My absolute worst-case scenario would be if the Earth somehow stopped spinning, and we are left stuck in day or night, for one season for the rest of eternity. Or the planet ends up like it was in "WALL-E" However, both of those scenarios are very unlikely for us, so don't worry too much.
Several people agree that Coronavirus cases spiking up is another worst-case scenario for us.
Someone who preferred not to be named said that us all going remote would be pretty bad.
McKenzie Kagle offered her opinion on the worst-case scenario is if the Black Lives Matter riots get worse.
I think it's safe to assume that everyone is looking forward to when we can leave this horrible year behind us.
But there is a silver lining to all of this, we will have an entire chapter in the history books.