5 Things to get you in the Christmas Spirit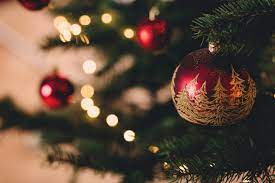 Is Christmas not coming fast enough? Do you need some things to make time go more quickly? Here is a list of the top 5 things to do to get you in the Christmas spirit.
Listen to Christmas music

-Whenever you are bored or have nothing to fill the air, why not put on your favorite Christmas hits while doing anything that your heart desires.

Decorate your home 

-What's better than getting yourself in the Christmas spirit than surrounding yourself with Christmas decorations.

Watch some movies

-On a day when you are unmotivated and you only want to snuggle up in a blanket, you can also put on a Christmas movie to brighten the mood.

Make some treats

-If you have a sweet tooth, but don't know what to make, search for some Christmas recipes to brighten up your house with the sweet smell of sweets.

Look at the Christmas lights

 -If you are in the mood to have a relaxing night drive, you can go and pick up your favorite drink and drive around your neighborhood to look at all the pretty decorations and bright lights.