The Pardoned Turkey 2019: Bread vs Butter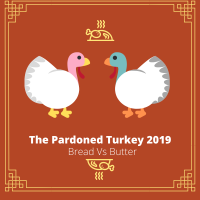 Every year before Thanksgiving, the President is given two live domesticated turkeys, he must choose one to be the officially pardoned turkey. The pardoned turkey escapes from thanksgiving and retires to a farm where it will be forever safe. 
The first president to unofficially pardon a turkey was Abraham Lincoln. The turkey was given to the white house as the future Thanksgiving dinner, but Lincoln's son had gotten attached to it. The president himself was an animal lover, so he instructed the White House staff to spare the bird. Since then, almost every president has done the same.  Now it has became a tradition. It is not a simple tradition either. 
There is an election to choose the winner. Last year's candidates were named Peas, and Carrots. Peas got more votes online, so he was the proud winner. Both turkeys lived and are living happily at "Gobbler's Rest" in Blacksburg, Virginia. 
The tradition continues. On November 24th, this year's candidates arrived in style. The turkeys are almost identical, but their personalities are very different. The two birds came to Willard hotel right by the white house. They stayed overnight until a press conference on November 25th, when the bird's names were announced. Bread and Butter.
Both turkeys  lived, but only one was named the official 2019 pardoned turkey.  On November 26th, 1:00 pm, Trump presented the crowd with the winner and 2019's pardoned turkey… Butter.