The Kissing Booth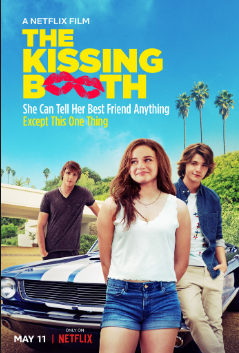 Hannah Wilson, Journalist
September 20, 2018
Hang on for a minute...we're trying to find some more stories you might like.
The Kissing Booth
Runtime: 1hr 50min
Rating: NR
Netflix Original:  May 11,2018
Genre: Comedy/ Romance
Budget:
Elle Evans (Joey King) and Lee Flynn (Joel Courtney) have been best friends since they were born. Elle has had a crush on Lee's older brother Noah Flynn (Jacob Elordi) since she could talk. Lee and Elle set up the kissing booth for the school carnival. On Elle's first turn being a contestant for the kissing booth she ends up kissing her life long crush. They start to fall for each other and don't know what to do! Does Elle break off her relationship with Noah to keep her friendship with Lee, or does she date Noah and ruin her friendship with Lee?
The actresses and actors were very believable and had great chemistry. Joey and Jacob didn't actually have to act because they are dating in real life! Joey King was the lead, Ramona, in "Ramona and Beezus". She didn't have a similar role because "Ramona and Beezus" is more of a little kids movie and "The Kissing Booth" is more of a teen movie. The story line is believable because it actually happens in real life. "The Kissing Booth" hasn't won any awards yet but they probably will soon!