The best hot chocolate around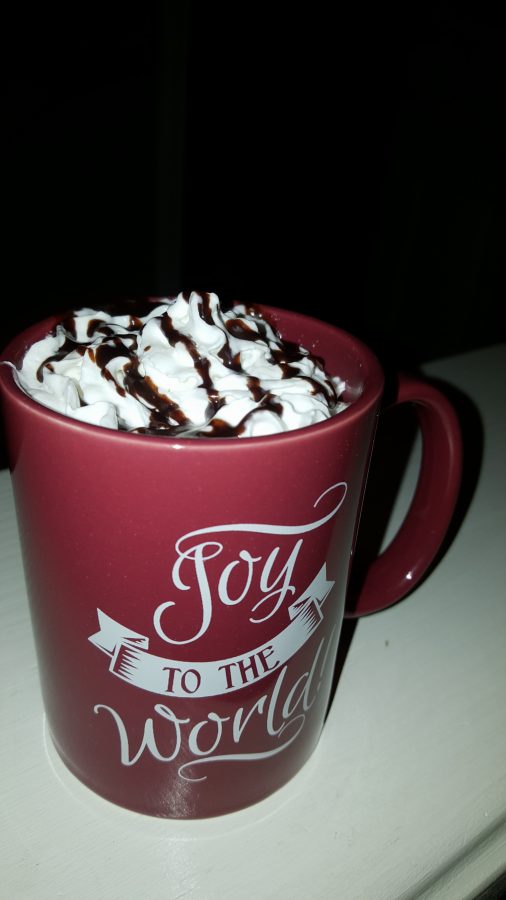 Taylor Boesker
December 13, 2016
Hang on for a minute...we're trying to find some more stories you might like.
Starbucks Review
I got a tall which is the smallest you can get. They did not even fill it to the top, half of it was filled with whipped cream. Which is not always a bad thing, but when you pay for hot chocolate you expect to get what you payed for. The hot chocolate itself was not creamy at all, even after all that whipped cream that was added. It was very chocolaty too. It tasted exactly like a brownie with chocolate chips, and chocolate drizzled on top. For me it was just too much chocolate. Even in the bottom of the cup there was chocolate. After I finished it I started to notice that it left a residue in my throat and the aftertaste took many hours to disappear.

Braum's Review
I got a small and it was already much larger and cheaper than the known coffee shop Starbucks. It was very warm and had a good scent to it. The cup was filled to the brim, with just enough room for whipped cream on top. Their hot chocolate was very creamy and had more of a hazelnut flavor rather than chocolate. It tasted as if someone made hot chocolate and put a flavored creamer in it. Braum's is definitely the place to go if you are not a big chocolate fan.

Craft Coffee Review
I got a small hot chocolate. It came with no whipped cream or any chocolate drizzle. It had quite a bit of milk in it and yet it tasted watered down. This hot chocolate tasted like your average hot chocolate mix, like Swiss Miss. To me it was tasted just like something you could make at home.

The Well Review
This hot chocolate had a different taste. It did not have a traditional taste to it. To me it had a taste of chocolate covered espresso beans. This hot chocolate had a more of a chocolate flavor than cream but the whipped cream on top did even out the ratio of chocolate to cream. I got the milk chocolate. But when you ask for hot chocolate you can get milk chocolate, dark chocolate, and even white chocolate flavored.